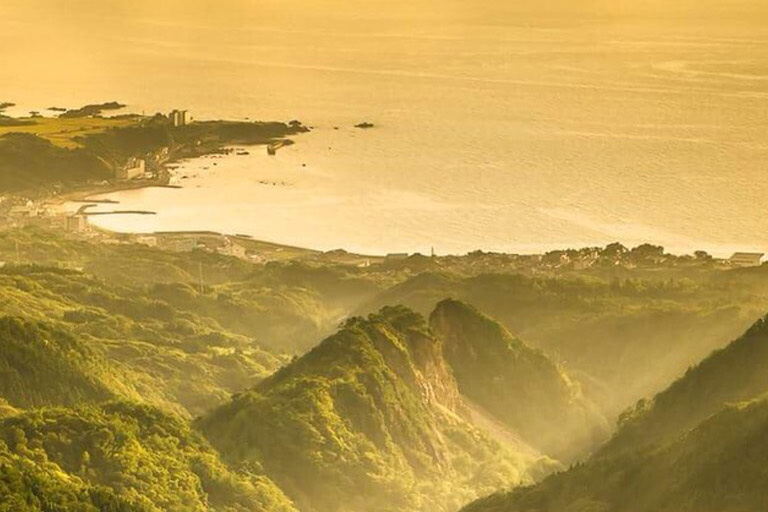 Highlights of Sado
Highlights of Sado
Sado's spectacular landscape is the perfect backdrop for taking a drive, touring and cycling, and serves as a field for a variety of activities. Of course, there are also plenty of historic sites and tradition-inspired events. It is only a few of them that we introduce here, and the seasonal attractions and events vary, so please ask the hotel staff anytime. Discovery of the real Japan is surely on this trip's agenda.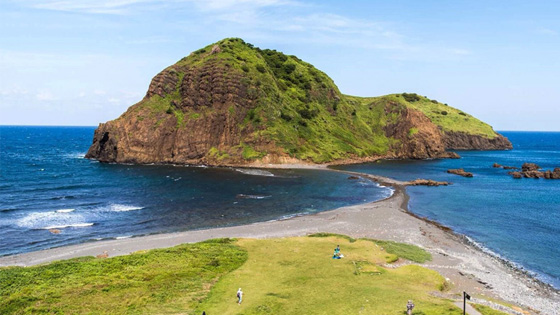 Futatsugame (Two Turtles)
Futatsugame is an island that looks like two turtles at the northern tip of Sado. A national monument park, as well as a scenic spot, Two Turtles was awarded two stars by Michelin Green Guide Japan. Many tourists visit this interesting land formation, which includes beaches and a campground. The clear waters are outstanding and definitely a must-see.
Movie「海面を破り空高くそびえる大岩、大野亀」
Ohnogame (Big Turtle)
Like Futatsugame, Ohnogame is also a huge, turtle-like rock mentioned in the Michelin Guide. A beautiful habitat of Tobishima Licorice, Big Turtle Rock offers a great hiking course in late May to early June when yellow flowers bloom all over the area. With the feeling of firm soil under your feet, you can climb to the top to discover a majestic ocean view. It is one of the unique pleasures of a Sado journey.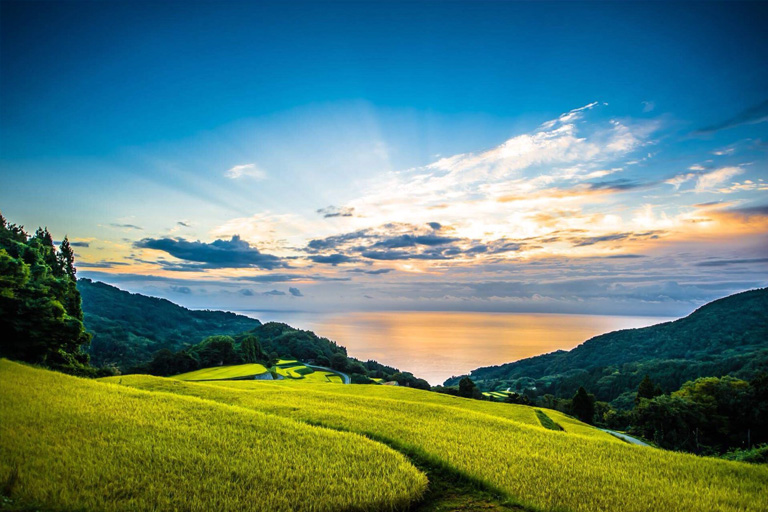 Iwakubi Shoryu Rice terrace
Beautifully terraced rice fields, dating back to the 16th Century, spread over the mountains at an altitude of more than 350 meters. Over 400 fields with a variety of sizes and shapes make great use of the steep topography. Here, you can enjoy the synchrony of majestic nature and people's daily lives. In early spring, take in the brilliant reflection of the sky in the flooded rice fields, and in autumn, the golden rice ears bowing gracefully are equally breathtaking. Photographers looking for the perfect morning glow will find this a prime shooting spot.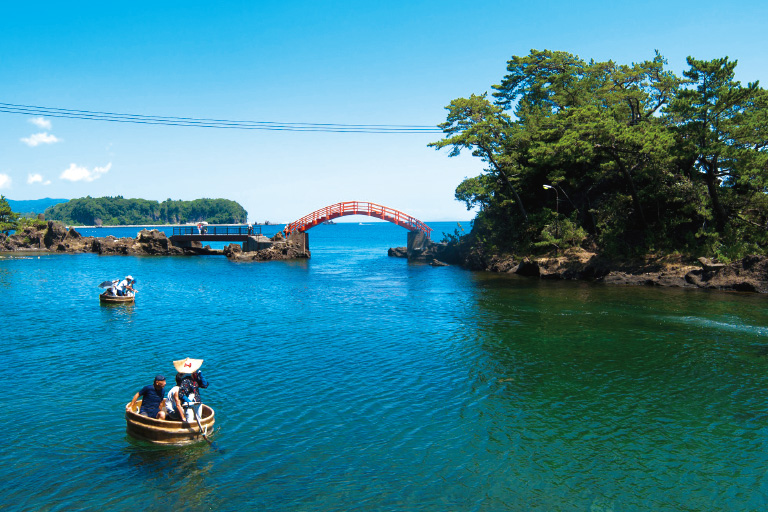 Yajima & Kyojima Islands
These two islands, an attractive sight and symbol of Sado, rise out of a calm cove and are connected by a red wooden bridge. When you visit here, please do not forget to take a ride in a Taraibune, a boat originally designed for harvesting seaweed, abalones, scallops and other seafood along the Ogi coast, where there are many rocky reef obstructions to navigate. Although you may feel that you are riding around in a washtub at first, the expertise of the "sailors" has most adventurers relaxing into an extremely authentic experience.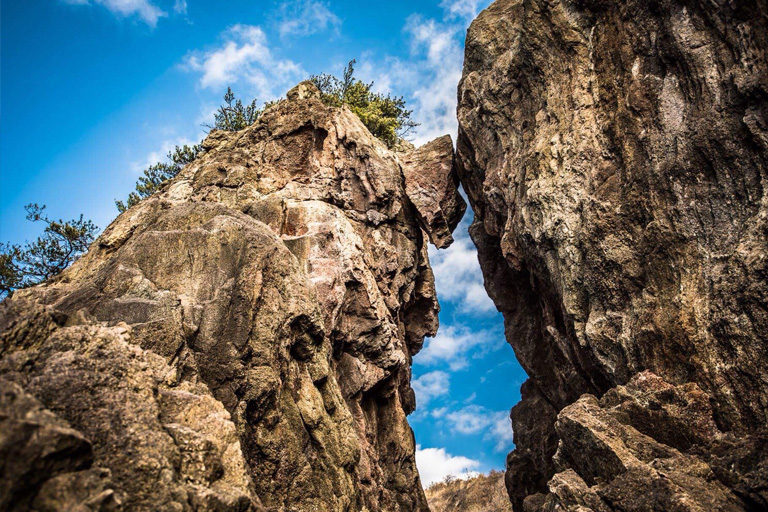 Scissors Rock of Benkei
This is an unusual landscape with a wedge-shaped rock sandwiched between megaliths. Legend says that Benkei, a warrior monk, in a competition with a demon to see who was stronger, threw the rock and it stuck there. This same scenery can be found in other places on the island, too. When photographed at sunset, Scissors Rock of Benkei has a mysterious silhouette.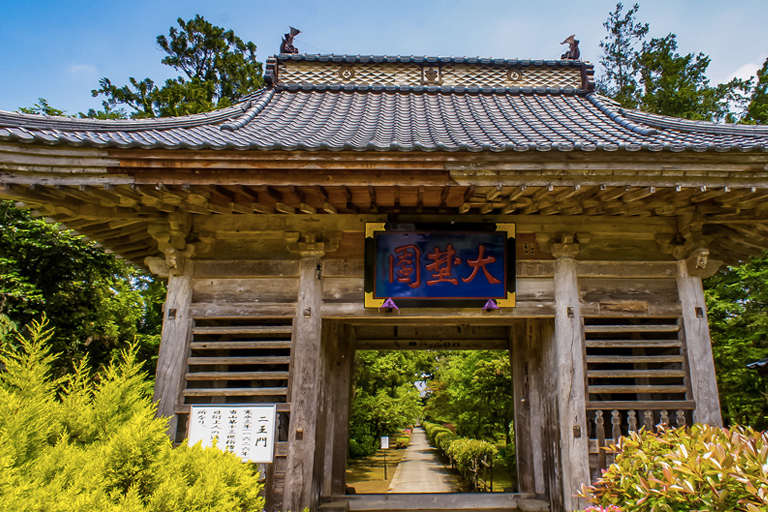 Traces of Nichiren Buddhism
There are 28 Nichiren Buddhist temples in Sado, sites related to the Buddhist priest Nichiren, but the temples of Konponji and Myosyouji are counted as especially spiritual. The place where Nichiren wrote "Kaimokusyou" was introduced as "Sanmido" on the Konponji temple premises, and it was at Myosyouji Temple that Nichiren wrote "Kanshinnhonnsonnjyou". In the 16th century, the pioneers of Sado Gold Mines built and made donations towards Nichiren-influenced temples, and those tend to be very fine and elaborate. Even if you just want to follow the footprints of Nichiren, the journey to Sado can be a deeply thoughtful pursuit.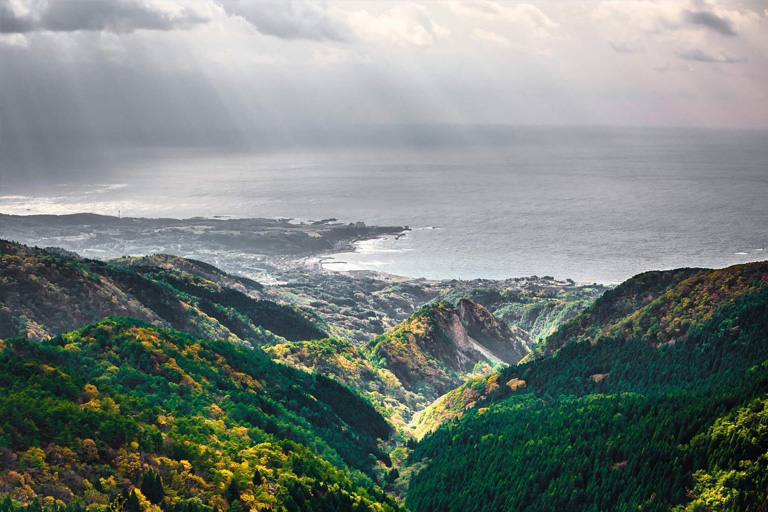 Ohsado Skyline
This beautiful, 30 km observation road extends from the Kanai area to Aikawa. You can enjoy a pleasant drive while viewing the majestic valley terrain. From the fresh bright green of early summer to the fall foliage of autumn, outstanding scenery beckons you to visit in every season.
佐渡観光Map
佐渡の名所を簡単にまとめた観光マップをご用意いたしました。 たびのホテル佐渡を拠点とした観光に、ぜひご活用ください。(クリックでPDFファイルを開きます。)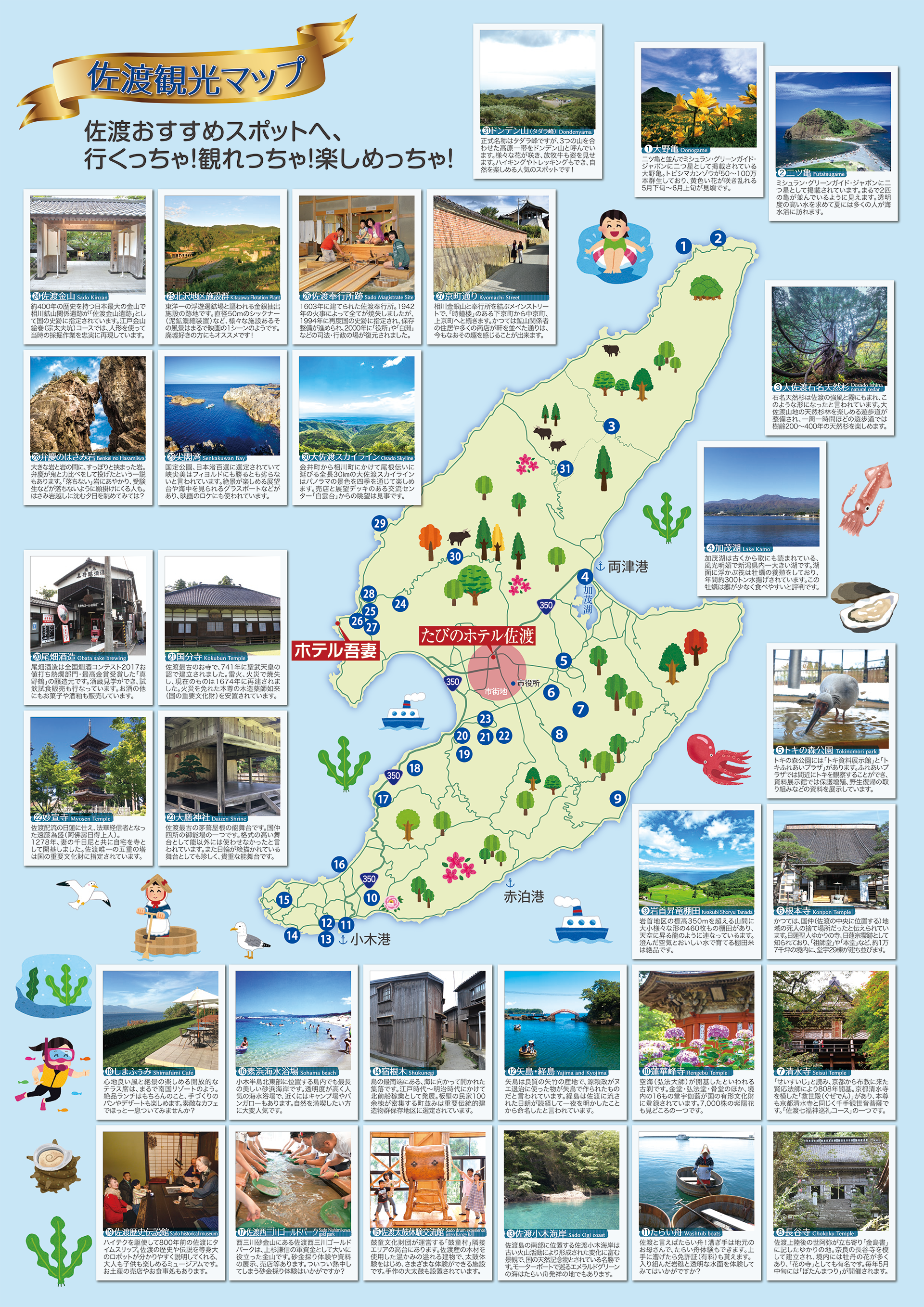 サドメシラン認定店(佐渡産品提供店)
店名
住所
電話番号
営業時間
定休日
コメント
そばとパスタの店
與左ェ門 ―よざえもん―

住所

佐渡市相川新五郎町11

電話

090-7832-5806

営業時間

金、土、日 11:00~14:30 17:30~21:00

定休日

月~木曜日
自家栽培、自家製粉の手打ちそばの他お子様メニュー、パスタもあります。
古民家食堂&カフェ&居酒屋
持田家 ―もちだや―

住所

佐渡市相川一町目7

電話

0259-67-7268

営業時間

11:00~14:00 18:00~23:00

定休日

月、日曜日(夜)
持田鮮魚店直営の古民家食堂としてオープンしました。魚は鮮度抜群です。昼はカフェ、夜は居酒屋として営業しています。※カーナビの場合、電話番号0259-74-2524で検索ください。
ときわ館

住所

佐渡市泉104

電話

0259-67-7555

営業時間

10:30~15:00

定休日

日曜日
「日替わり定食」が大人気!地元野菜をふんだんに使った、温もりあふれる郷土料理、家庭料理のお店です。
長三郎

住所

佐渡市新穂81-4

電話

0259-22-2125

営業時間

11:00~22:00

定休日

第1、3、5日曜日 第2、4月曜日 (1、8、10月は変動有)
佐渡魚市場と地元漁師から直接仕入れています。佐渡天然ブリカツ丼あります。
レストラン&バー こさど

住所

佐渡市真野新町275-2

電話

0259-55-4004

営業時間

11:00~14:00 17:00~21:00 21:00~22:00(バータイム)

定休日

水曜日
「佐渡牛ステーキ」「佐渡産あわびのステーキ」などオリジナリティあふれる洋食を提供しております。
四季菜割烹 伝

住所

佐渡市畑野126-5

電話

0259-67-7161

営業時間

11:30~13:30(平日) 17:00~22:30

定休日

日曜日
※土、祝日は夜のみの営業
刺身は全て佐渡産です。地元の食材を活かした、色彩豊かな和食処です。
如月 ―KISARAGI―

住所

佐渡市両津湊143-2F

電話

090-1613-5409

営業時間

11:00~14:00 17:00~19:30

定休日

月曜日(不定休有)
オススメメニューは『佐渡の素材カレー』です。当店1番人気です。佐渡の食材をふんだんに使ったメニューです。平日のみ日替わりランチドリンク付でなんと税込み500円です。
ふるまい屋 ながも

住所

佐渡市両津夷271-1

電話

0259-67-7414

営業時間

17:30~22:00(季節により変動)
※10名以上で要予約

定休日

不定休
料理人であり、漁師でもある代表が旬の魚をおいしく提供する自給自足のお店です。名物イカながも丼オススメです。簡単な英語対応です。